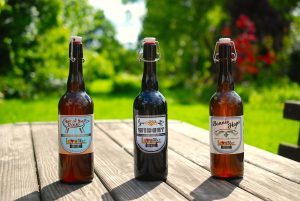 Jim Southey started brewing in 2013 having been inspired by a friend in Devon and completing a 4 day brewing course.
"Its always been a keen interest of mine having been brought up in a village with a good real ale pub and then studying at Bristol where there was always a great selection of ale on tap"
Jim has lived with his wife Sara and two children, Ben and Jenny, in Oxfordshire for over 10 years where they enjoy great village community in Milton.
LoveBeer was established in 2014 after an initial foray into supplying firkins to a few local beer festivals.  Two of our brews featured in the CAMRA Oxford beer festival.
"When you see young and old people tasting and enjoying a pint of your own ale you get motivated to do more.  I remember talking to some Chinese students who said how much they loved tasting English beers".
I have always loved beer and now enjoy making it so the name of LoveBeer seemed an obvious one to go with.
The initial attempts at brewing took about a year to work through technique and recipes.  The workshop has gradually been converted into a larger microbrewery with cold store space and now feels like a real cottage industry.  Jim is often seen brewing at the weekend and passers-by are always welcome to call in and chat or inhale the wonderful aromas of malt and hops.  If only we could bottle that "brewery perfume".
Jim's daughter, Jenny,  helped design the LoveBeer logo and often helps brew and bottle the beer with her brother Ben who is also an amateur photographer (as shown in the gallery)
We only use real ingredients of water, malted barley or oats, whole hops and brewers yeast.  There are occasional special beers made using other flavours such as molasses or black treacle!