Doctor Roo
Double Hop Citra session pale ale
This is a light and zesty summer style golden pale ale based on the famous citra hop to give fresh citrus and lemon flavours.
You can drink this one all day long.
Molly's Malt
This is our "comfort beer" which is an amber ale made with 3 types of malted barley to give a caramel and biscuit flavour. The hops used are a mixture of traditional English bittering hops and American hops, that give the beer a delicated flavor of citrus and spice.
Purdy Peculiar
This award winning stout is made from natural malted barley with an additional measure of crystal, chocolate, black and smoked malts. This gives the lovely dark colour and aroma but we also added a dash of black treacle and molasses for extra stickiness.  The whole hops used are a mix of traditional English and American to give a smooth flavourful finish.
Monty's Jem
Monty's Jem is our take on an English Pale Ale style beer which has true depth of flavour and balance. Made with traditional pale malted barley, the base hops are from Kent but we have added some new world late hops to give a lovely smooth finish and hints of orange or possibly barley sugar.
Bonnie Hops
This award winning crisp extra pale ale made with pale malted barley. We selected 4 of the "big dog" hops from the USA to bring out huge citrus and floral flavours which make your taste buds tingle. Enjoy.
Hair of the Doug
The award winning brew is made with malted pale barley and molasses to give a golden coloured ale with some extra moreish flavours. We used a variety of hops but one of the late hop flavours gives a hint of orange and maybe some pear-drops. The full flavour taste will bring out some caramel and ginger flavours.
Widget
This is a really moreish ale based on the full and refreshing taste of an IPA and just as deceptively light to drink.  We added a some darker malt to give a slightly more complex taste and a dark malt  extract to give a contradictory dark colour.  Its fun because your taste buds wont believe your eyes!  Enjoy.
OG
This is a really light and refreshing extra pale ale made using english malted barley and a couple of late whole hops. The aroma should be light, possibly tropical fruits or cut grass and the taste will be citrus and possibly hints of tangerine or rose.
Mild Rover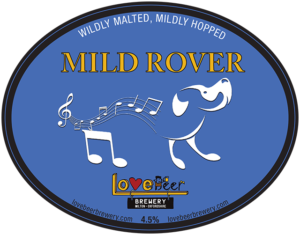 Wildy malted and mildly hopped.  Dark in colour this real ale has 5 different barley malts including a Carafa special mix to give caramel, toffee and coffee aromas and taste. Very light late hops give just a hint of floral flavouring.
Skyfall
This is a handcrafted golden ale and is the first one we have made using only BRITISH grown hops. Harlequin is a superb UK hop and we combined them with British roasted malt to make a great looking golden colour with delicious floral and tropical fruit flavours. Its a great summer quaffing beer.
Barney Snuggles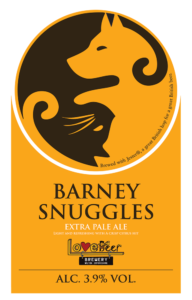 The ale uses one of the latest UK super hops that really will compete with some US and new world hops. It's light and fresh and very drinkable.
---
What you can buy
We can sell beer by the:
Firkin which is a 9 gallon barrel (approximately 70 pints)
A pin which is a 4.5 gallon barrel (approximately 35 pints)
We also provided brighted beer by request for parties
We now bottle most of our beers (500ml & 750 ml) and can offer "beer in a box" from 10 pints to 35 pints by special request
How to order
Contact us or send an e mail to jim@lovebeerbrewery.com
New beers
Build a beer offers our customers the opportunity to design and brew their own ale for a special occasion, birthday, wedding or anniversary.  Event brewing is also possible by prior agreement for festivals or just a good old party
Festival special – designed and agreed on order.